Another week in a dogs life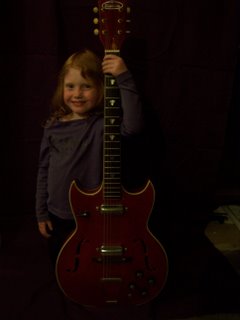 We have been pleasantly surprised by how quickly people have begun to respond to the Mongrelguitars website. This week has seen our first order for what should be a really nice Mongrel Telecaster to be built for a West Australian guitarist.
We have begun what to us is one of the most pleasant and exciting steps in the custom building process which is finalising all the details such as neck profile and fingerboard materials- either Maple or Rosewood, body timber- whether to use Alder or Swamp Ash and finalising the harware specs. In this case we will most likely install some beautifully handmade scatter wound single coils which we have made for us in the US.
We will post the progress of this project here as it develops.
Ian has been refretting the 1958 Supro which he is building for his daughter Kate's seventh birthday. She has been passionately interested in guitars since she was a toddler and probably knows more about vintage guitars than any six year old on the planet. She browses the Ebay Vintage Guitar listings almost daily and she constantly calls out for us to look at the "Very tasty Flamed Maple" or "Dad I just love slotted headstocks." It is a bit disconcerting sometimes when she picks an old guitar as a Kay before we do.
The Mongrels have sanded the heavily and badly varnished body back to reveal a stunning blonde two piece Maple body and the Brazillian Rosewood fingerboard on the one piece Maple neck.
Not to be outdone Ian's youngest daughter Colleen has picked a Truetone Kay 592 as her own and so Ian has also been busy on that project.
The guitar is finished in Kays version of the Gibson Transparent Cherry finish which displays the magnificent Flame Maple veneers on the front and back, and being a redhead Colleen naturally chose this very cool thin double cutaway as her own.
Typical to this model it is split around the neck pocket and it will have to be stabilised.
So far the frets have been removed and Ian has profiled the neck to a ten inch radius and dressed it to reveal the magnificent purple streaks of the Brazillian Rosewood.
As is common with the majority of Kay guitar necks, the thickness of the Brazillian fingerboard is a generous quarter of an inch. These Brazillian Rosewood fingerboards are from old growth rainforest timber which has been under International embargo since 1968.
Ian has plenty of these beautiful Kay necks to refret and we will post photos showing them as they progress.
Musically we have been playing around old blues forms this week enjoying the intricacies of what on the surface appears to be the simplest musical form.